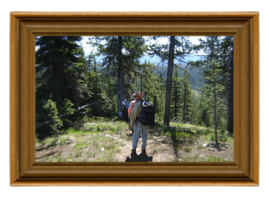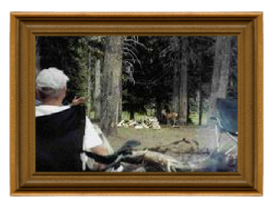 If you just like to explore there are miles of mountain trails to investigate. Bring a camera and see all the plant and wildlife the wilderness has to offer and shoot to your heart's content. This is a true wilderness and is teaming with all the wildlife you can imagine. You may see deer, elk, moose, mountain goats, big horn sheep, a variety of birds and other small critters that will bring out the photographer in you.
TRAIL RIDES, FISHING ,CAMPING, HIKING.
YOU DECIDE WHAT YOU WANT TO DO THAT DAY!!!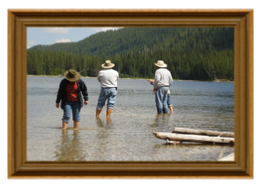 If fishing is your pleasure, we can ride to several different crystal clear lakes full of scrappy cutthroat trout. There are even a few lakes that are accessible by foot only. These lakes typically have bigger fish in them as they see very little human traffic and a lot of the time you can fish the day away and never be disturbed by another person (a little piece of paradise for any fisherman).
You can fly-fish, bait or use a lure your choice. There are a couple of small streams that are a hoot to hunt down that fish that is hiding and trying not to get caught.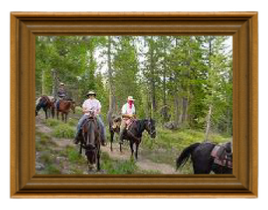 Located 1/4 mile from the only road in the area. Elevation of camp is 7400 foot. There are Elk Deer and a occasional Moose that visit camp especially during our summer trial rides. Day temperature usually are between 70 to 90 degrees and evening temperatures are around 50.
On foot is a great way to explore. Take off hiking for the day. Grab your backpack and sack lunch head out cross-country to explore the country that has not been touched by man. Hike into lakes that are only accessible by foot.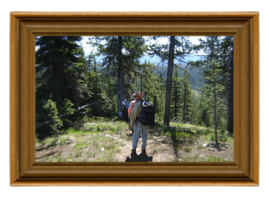 Take a day to explore the old Ghost town of Florence. In your mind, you can drift back in time and imagine what life must have been like for those hard working gold prospectors of a 100 years ago or more. Walk through some of the ruins of the miners' cabins that are still standing. See the dredge pond and hydraulic mining ditches that the miners used to try and strike it rich mining for gold. Inspect the jail that they used to confine any outlaws that plagued the town. Like that wily scoundrel "Cherokee" Bob Talbot, who ran wild through out the town and was eventually bushwhacked by two local citizens. You can also visit boot hill, the old time cemetery, that is just outside of the town site. Where it is said that only one of the residents was buried without his boots on and that was a baby.
After the days adventure, we return to camp for a hearty down home country dinner. After the wonderful Dutch oven dinner, kick back in our comfortable chairs and observe the Blue Jays and Camp Robbers stopping by for an evening snack. It is hard to resist the pull of the warm glow and radiant heat of the open campfire. As the day fades into a spectacular night with a sky so full of glittering stars they seem close enough to reach out and touch. You might even hear a distant howl of a coyote or wolf as nightfall brings the end to another peaceful day in Idaho's magnificent back country.
To remove the trail dust after a exciting day of horseback riding and/or hiking there is a hot shower available for you to enjoy before settling back in front of the fire to watch the night fall over the peaceful serenity of the forest. Our goal is to provide maximum comfort without spoiling the tranquility of the wilderness setting.