ELK AND DEER HUNTS
Excellent area for elk, deer, bear mountain lion, and wolf hunting . Our season starts September 15 during the elk rut and ends November 18th during the deer rut and the elk migration, our elk never leave our area. Purchase a hunt with us, then buy any equal or lesser tags you want. Price of your hunt includes your first animal. Any animal taken after that is a $500.00 trophy fee. Elk, deer, bear, lion, and wolf are all open during our season.
NUMBER OF HUNTERS IN CAMP (non_hunter)
We limit our guided hunts to four hunters per camp with two exceptions. First is if there is more than 4 hunters in your group and the second is the two hunts in October where we can hunt two separate units. At that time, we reserve the right to have up to eight hunters in camp. Four of the hunters will hunt one unit and four will hunt the other unit. Hunts have the ratio of 2 guests per guide. A one on one hunt can be provided at an extra cost. We do allow non hunters in camp and also to accompany the hunter
HUNTS
Hunts are 7 day one day in one day out and Five full days of hunting.
WE NO LONGER CHARGE FOR COMBINATIONS HUNTS UP FRONT
MEALS
We furnish all meals from dinner the first day through breakfast of the last day.
MEALS THAT WE PROVIDED ARE: Hot breakfasts, A sack lunch, and a hot home-style Dutch oven dinner.
Typical meal; Meat, potatoes, vegetable, fresh bread and a desert.
ACCOMMODATIONS
For your comfort, we provide canvas cabins (wall tents) that are furnished with a vinyl floor, cots w/foam pads, and a wood-burning stove. There is also a hot shower available after those hard days of hunting
WHAT IS INCLUDED IN OUR SERVICE
PRICE PER PERSON INCLUDES;
Cook, guide, wrangler (when available), food, lodging, a horse for transportation, pack out of your meat to trail head, and caping of the animal.
DOES NOT INCLUDE
Tax, Tags, License, meat processing, transportation of meat to a local butcher,
locker fees or airport pickup and drop off.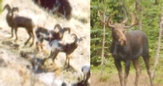 RIFLE HUNT DURING THE RUT